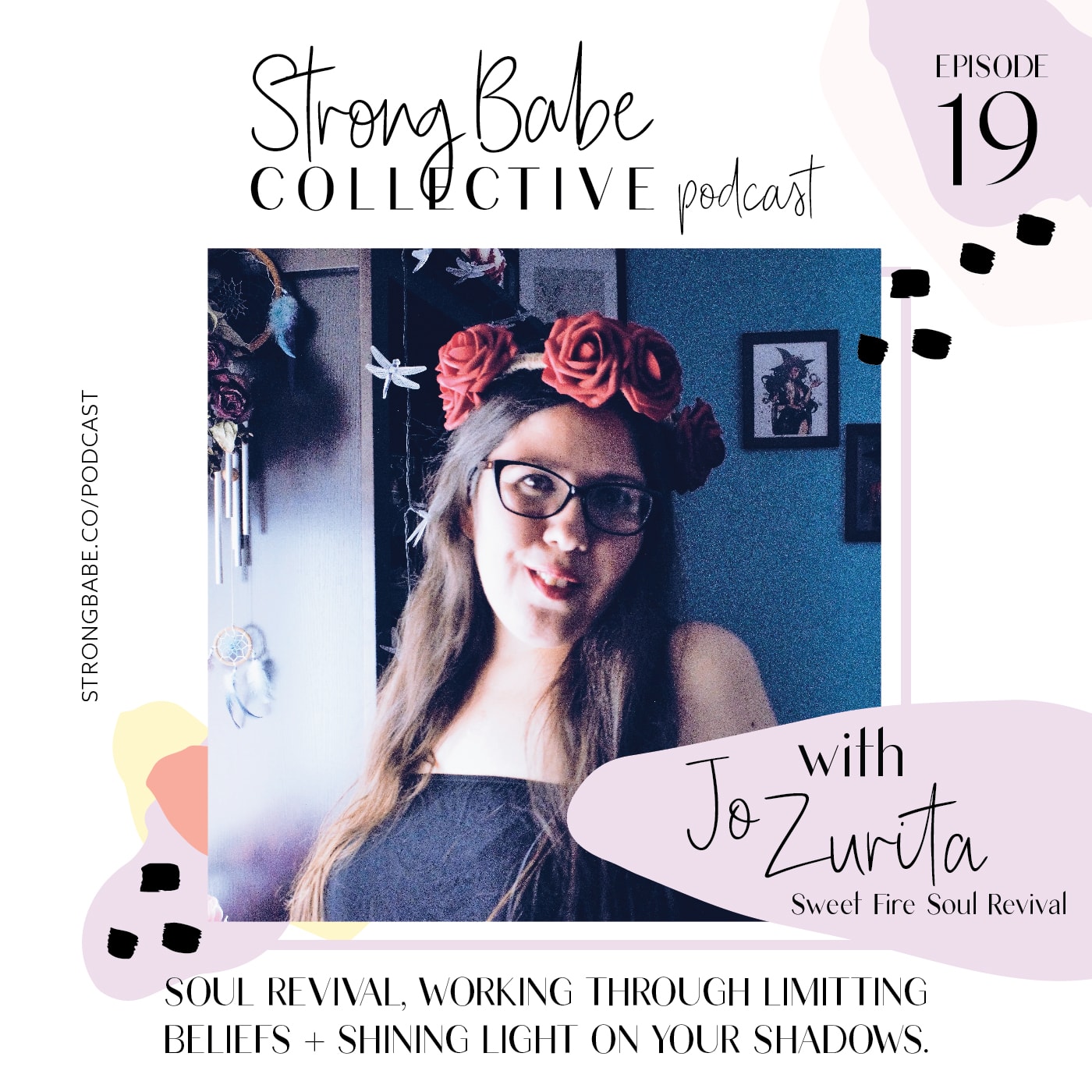 Babes, I am so excited to bring you the latest magic to hit the Strong Babe Collective Podcast, as we expand into bringing incredible humans onto the podcast through guest interviews! I am so excited to bring you babes high vibe humans who have amazing stories about manifestation, empowerment and mindset, in order to help you build your dream lives.
And today, our first ever interview is with the gorgeous Jo Zurita from Sweet Fire Soul Revival.
Jo is a Soul Revivalist and self proclaimed Queen of Shadow Work. She specialises in helping women work through fear-based limiting beliefs in order to reclaim their confidence and re-ignite the fire within their soul. Through Shadow Work, she helps women to face exactly what it is that is holding them back, and works with them to move through it; replacing it with the freedom to build the reality they've been dreaming of.
In today's episode, we talk all about:
♡ What Shadow Work actually is and how it is actually one of the most important forms of shining light you can do
♡ How to move through blocks, obstacles and limiting beliefs to learn the lessons you actually need to evolve
♡ Identifying the root of limiting beliefs and what to do to release your attachment to them
♡ Why rearranging energy around experiences can teach you completely new lessons
♡ Realising that the Universe will keep showing up with the same message for you, until you become open to receiving it
♡ Why giving yourself permission to show up authentically is the most liberating thing you'll ever do and why you need to start being your own biggest cheerleader
♡ How to move through the painful moments and really low vibe times to come back into alignment
To connect with Jo, you can follow her on Instagram @sweetfiresoulrevival, can find her on YouTube, Facebook and at her website: www.sweetfiresoulrevival.com
♡♡♡
Don't forget, spots in #DesireToManifest are already filling up. If you feel called to book a time to chat with me then please listen to your intuition and book it here babe: strongbabe.co/clarity
♡♡♡
Get all my FREE Manifestation tools: strongbabe.co/freemagic
To continue the convo in our FREE High Vibe Facebook Group, click here!
To subscribe on YouTube and come check out more Strong Babe Inspo, click here!
To sign up for my weekly Strong Babe Newsletter for doses of inbox love on all things manifestation and empowerment, click here!
Follow on Instagram and on Facebook: @strongbabecollective
Appreciate and love you so much babe! Thank you for taking the time to listen! If you enjoyed the episode, please let me know by leaving a review on iTunes! xxx
Intro + Outro Music:
Lights by Sappheiros https://soundcloud.com/sappheirosmusic
Music promoted by Audio Library https://youtu.be/-lbbHQbZNKg