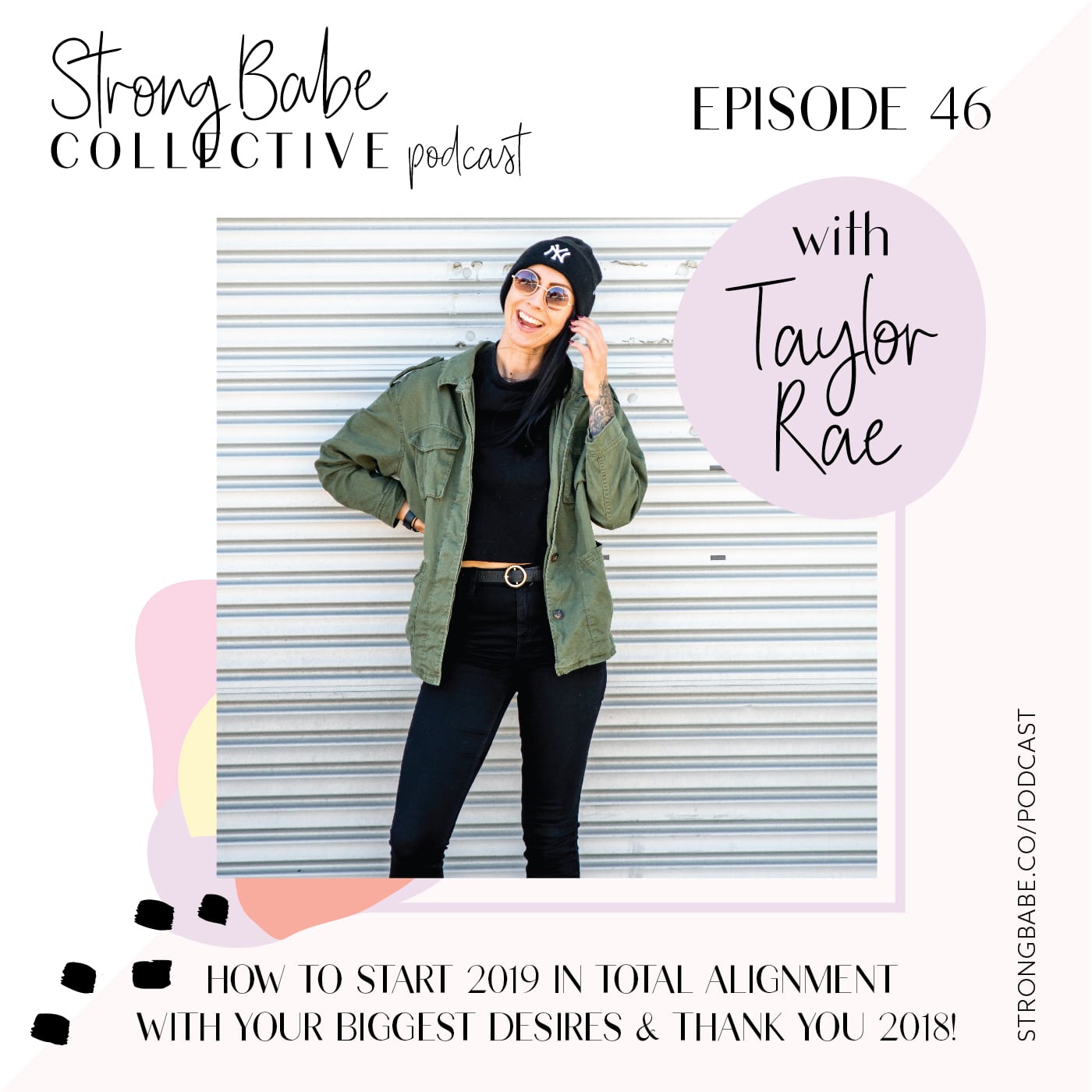 JOIN MY FIVE DAY MANIFESTATION CHALLENGE: strongbabe.co/5daychallenge
Here's to your beautiful 2018, and to all I know is on its way for you in 2019! I wanted to record this final episode for you to send you the beautiful HIGH VIBE ENERGY that is going to put you in total alignment with receiving all of your biggest desires, and to get you excited about all that you know is on its way to you in 2019!
I am SO excited to be releasing this FINAL podcast episode for 2018, and what a beautiful way to finish off such a beautiful year! 2018 has been absolutely INCREDIBLE and thank you so much for being a part of it with me. This year was all about listening to my intuition, stepping into my power and being divinely guided by the Universe to show up exactly as I was needed for you babes and I am SO GRATEFUL for all of it. Thank you so much for allowing me to be a part of your manifestation journey and trust me when I say this is just the beginning my babe! I have so much in store for you in 2019 and I am so excited to help you manifest even more next year!
In this episode I talk to you babes about:
↣ The importance of listening to your intuition and what it's leading you towards in 2019
↣ The importance of celebrating all that you manifested in 2018 and how it helps to manifest even more in 2019
↣ How to get into the perfect energy to receive so much in the New Year
↣ How to KNOW that everything you desire IS YOURS in 2019
↣ The importance of recognising fear as a sign to GO FOR IT!
Have an AMAZING NEW YEAR'S EVE babes and don't forget to join our Aligned & Abundant Five Day Manifestation Challenge starting January 1st! I am so excited to start the New Year with you manifesting MAGIC! www.strongbabe.co/5daychallenge
It is all about helping you step into the version of you that DOES have it all, and teaching you how to manifest your greatest desires with ease. Make sure you grab your spot and I'll see you LIVE on January 1st for Day One! www.strongbabe.co/5daychallenge
♡ Interested in joining the next round of my signature Manifestation Program, #DesireToManifest? Submit an Interest Form here and I'll be in touch: https://strongbabe.co/interest
♡ Book a Free Clarity Call with me to chat those big goals, dreams and desires - and how to actually manifest them: strongbabe.co/clarity
♡ Get all my FREE Manifestation tools: strongbabe.co/freemagic
♡ Come and join our FREE High Vibe Facebook Group: https://www.facebook.com/groups/strongbabemovement/
♡ Come to my FREE online #DesireToManifest Masterclass where I show you exactly what it's like inside my signature Manifestation Course and I share the THREE BIGGEST SECRETS about how to unlock your manifesting power: strongbabe.co/masterclass
Follow on Instagram and on Facebook: @strongbabecollective
Appreciate and love you so much babe! Thank you for taking the time to listen! If you enjoyed the episode, please let me know by leaving a review on iTunes! xxx
Music: Lights by Sappheiros promoted by Audio Library: https://youtu.be/-lbbHQbZNKg